Are Used Car Values Actually Appreciating?
Car dealers everywhere are clamoring to buy your vehicle, but are used cars actually going up in value? The answer for many models is YES!  Used car values are at unheard of levels with some surpassing the original MSRP. This supply and demand phenomena has effectively made some vehicles into an appreciating asset.
SUPPLY & DEMAND
As quoted in an Autoweek article, "It's economy 101, supply and demand. We have elevated demand and short supply," explains Alex Yurchenko, senior vice president of data science for Black Book. "Because of the chip shortage, there's a shortage of new inventory. We still don't see it in sales numbers. If you look at May, April, March, they're healthy 2019 levels—so pre-pandemic. But what's happening is that dealers are just selling off their inventory. Available inventory is just dropping fast, every single day," notes Yurchenko. He also explains that available new car inventory is about half of what it was before the pandemic. That's not good for car shoppers.
Data form Black Book shows that wholesale used car prices are up more than 40% from the beginning of 2021. In the graph below 2021 is the purple line. You can see the insane increase in price as compared to last year, 2019, and 2009. The weekly changes in wholesale price appear to be getting larger.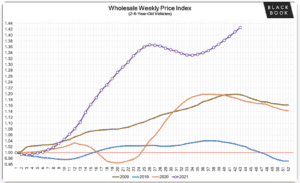 REPOSESSIONS & FLEET CARS
The article goes on to discuss repossessions and fleet cars not reentering the market. This is having a huge effect on the used car price, but again, they're not the only reasons for the decreased supply. President of the auction powerhouse ADESA, John Hammer, explains: "When we think about commercial inventory, the main supply channels for that really come from off-lease, repos, rental fleets, and then just other fleet customers. But off-lease cars, we have 80 percent of the supply actually flow through our platform, so we have really good insight into what's going on the off-lease side. But prices have gone up so much in the market, there's so much demand for those low-mileage cars, that they're either getting bought by the customer or getting bought by a dealer before they're even entering the remarketing channels and have an opportunity to go through the auctions."
Hammer also touches on some of the supply issues as mentioned by Black Book's analyst. "All of the stimulus money with government, it's good for consumers, has really kept those cars out of the lanes. Repo rates are really low. We kind of expected repo rates to spike, but it really hasn't happened," says Hammer.
WONDERING ABOUT YOUR CAR VALUE?
This used car market won't be here forever, but it may be the perfect time to sell yours. Wondering how much your car value is worth?  Let our 5-star Google Review Team at Hyundai San Luis Obispo get you top dollar for your vehicle.  We will buy your car even if you don't buy ours. Click here to find your car's value: https://www.hyundaislo.com/value-your-trade/
Full Autoweek article: https://www.autoweek.com/news/industry-news/a36863741/used-car-prices-skyrocketing/